Cointreau
PAID SOCIAL CASE STUDY
Cointreau came to us for a social ads campaign with geotargeting.
A spirited social ads campaign

The client

The Cointreau brand we know today was created in the wake of the Industrial Revolution by Adolphe Cointreau, a confectioner who diversified the family business to produce liquors from local fruit. A museum called the Carré Cointreau, situated inside the distillery, is dedicated to him.
"The keywords to qualify the agency-advertiser relationship are expertise, reactivity, adaptation and transparency in how we interact".
Romain Lentz
Global Digital Manager - Rémy Cointreau
The challenge

Remy Cointreau wanted to engage consumers with a geotargeted social media campaign, improve the brand's visibility near the "Carré Cointreau" and encourage Click & Collect. The three objectives were:
> Raise awareness of the distillery and the Angers Region's brick-and-mortar store.
> Let customers know that the physical store is still open and that they can purchase items using Click & Collect.
> Promote Cointreau's products and motivate in-store sales.
The solution

We decided to focus on a hyper-targeted audience within a specific area using appealing, animated creatives. The process was straightforward:
1. Maximise visibility using animated creatives that boost engagement.
2. Identify audiences for retargeting (people who have interacted with the content), and present the shop to affinity audiences within the mixology and cocktails sector.
3. Uphold storytelling continuity. Continue to re-engage people with video tutorials that explain how to make cocktails.
4. Encourage users to share our content.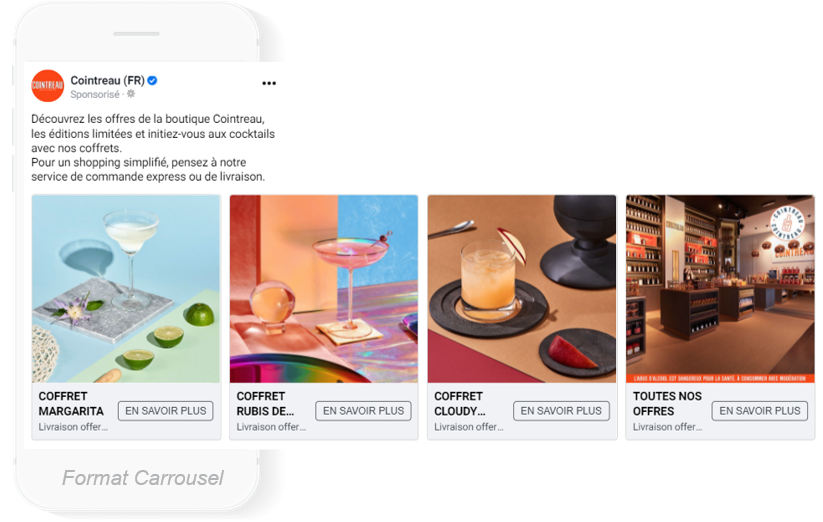 The achievements

Check the results below (November vs. December).
Targeted audience reached
Frequency over the two months
Museum bookings during the period when the conversion campaign ran
Get in touch
Got a project, question or want to have a chat?