Focusing on improving your website for organic gains in SERPs is a good idea. When done properly and in alignment with best practice, your efforts will not only help to boost your rankings but they will also have a positive impact on the quality of your website and attract a better targeted audience.
Search engines, like Google, put their users first. This means that their goal is to return results that have the most relevance to a user's search intent. So, it goes without saying, quality content that is focused on the user first and foremost will benefit your website's overall positioning in organic search. Check out our list of top SEO tools to help you boost your organic search rankings.
SEMrush, an SEO toolbox for keywords, content ideas & much more!
Among the professional SEO community, SEMrush is a favourite tool for optimising websites. Use it to improve content, find the best keywords and identify content and link gaps between you and your competition. It also has a ton of other insightful technical and on page tools to diagnose, fix and optimise your site, as well as features to help with pay-per-click search engine marketing, content marketing and more. Not only this, but you can also track your progress by setting up projects - a great way to monitor your progress in the digital landscape.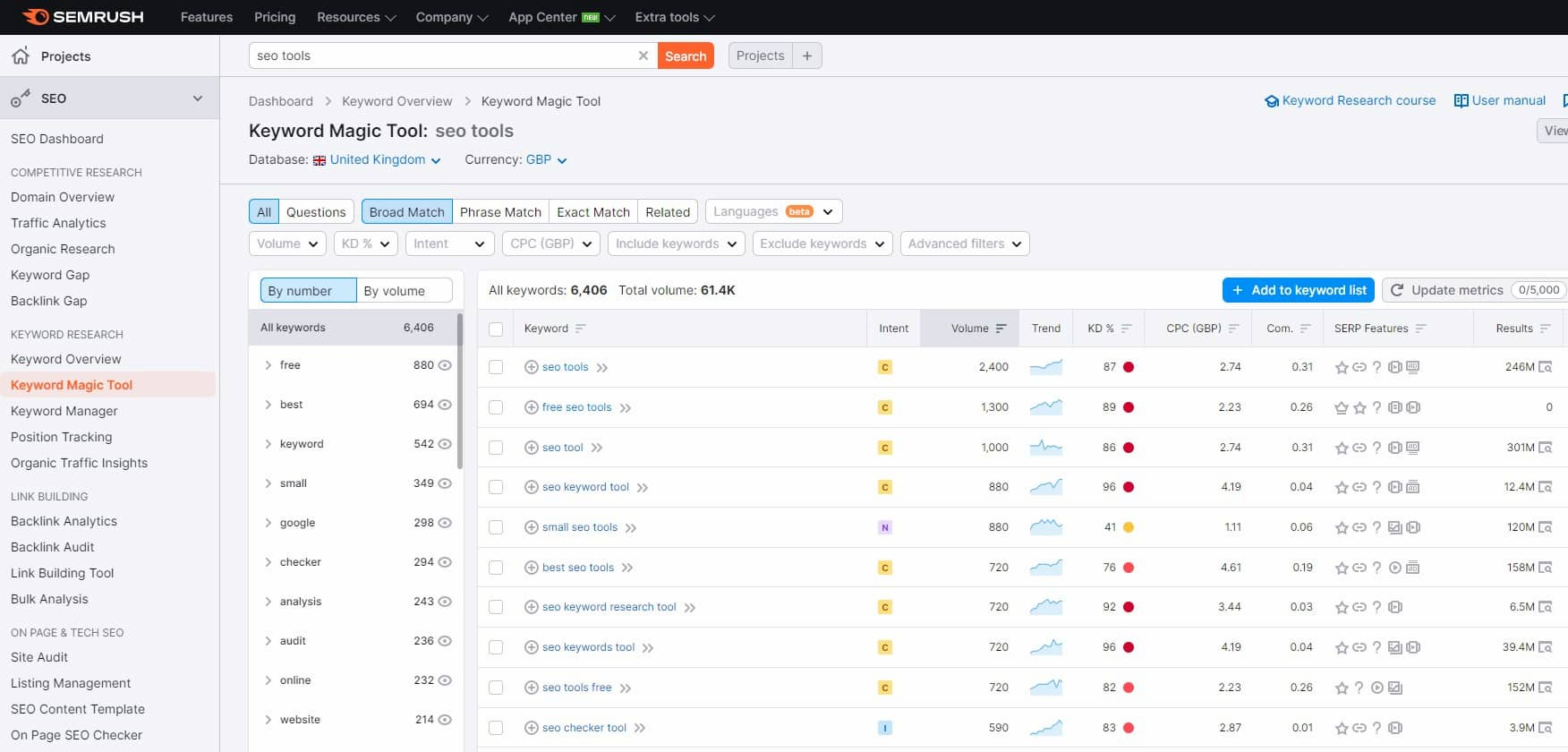 A quick glance at what SEMrush offers
Keyword Research: Market leading keyword research tool that delves deep. Covering everything from keyword overview to position tracking, keyword gaps, monthly search volume and CPC. Not only this but it also includes a fantastic Keyword Magic tool that's great for in depth analysation.
Site Audits: Analyse websites from both a content and technical perspective. Check the health status and performance of your site, fix errors and warnings, check Core Web Vitals stats, internal linking, markup and crawlability, to name just a few!
Competition Analysis: Keeping up with the competition has never been more important. With many individuals and businesses feeling the squeeze of the cost-of-living crisis, staying one step ahead is essential to ensure your business thrives.
SEMrush allows you to analyse your competitors in detail. From identifying keyword and backlink gaps to tracking your competitors' performance, these tools help you create a strategy to either stay on top or chase your rivals in the SERPs to increase visibility and help you take a bigger share of the market.
Is it free? Yes and no! Luckily for those on a budget (and with a small site) you can sign up for a free account. The free version is limited in its offering but is still worth a look if you're searching for a decent tool to boost your rankings.
The paid version offers the complete toolbox and is one of the leading platforms for anyone serious about SEO. Subscriptions range from $119.95 per month.
Answer the Public - Find out what people are really asking!
Recently acquired by Neil Patel (founder of UberSuggest), AnswerThePublic is a great tool to explore the questions that are being asked about virtually any topic.
User focused content is a major factor for anyone serious about ranking a website. However, since the Helpful Content update was released back in August this year, relevant content that provides more insight and a satisfying user experience is now even more important than ever. This is where AnswerThePublic comes into play.
Now you can write content that corresponds to the search intent of users and that provides real answers to their questions. A win for your users, and if done properly, a win for your website!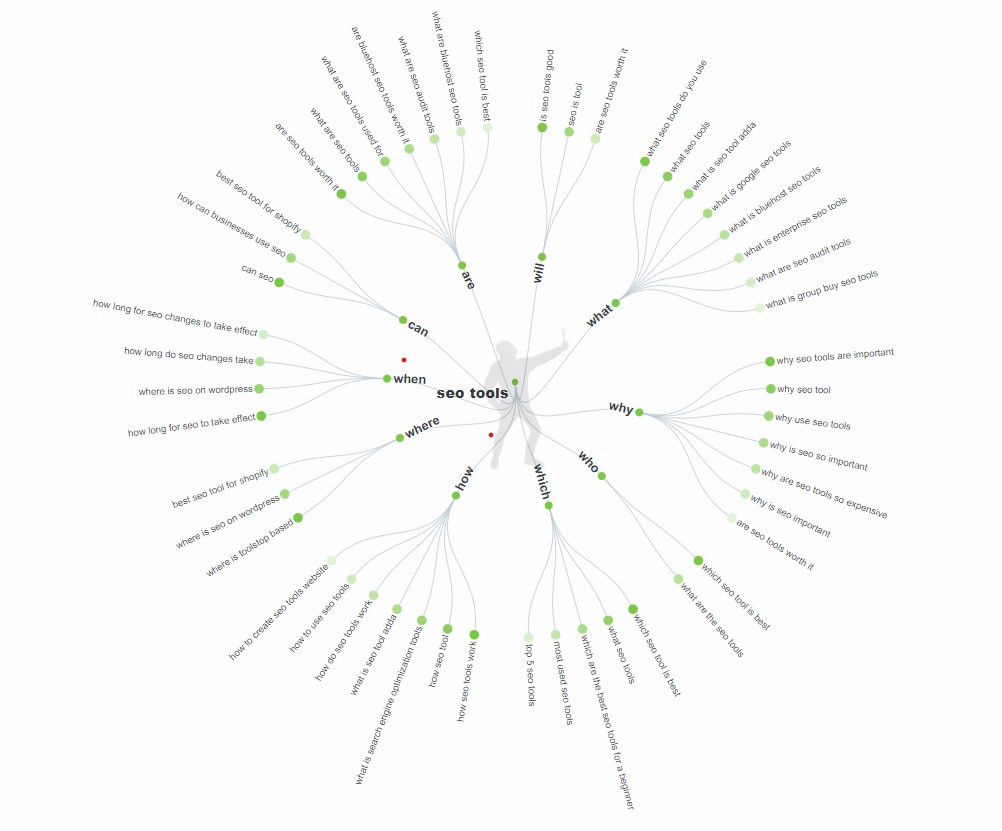 Is it free? You can sign up for a free account but this will limit you to just three searches a day. Alternatively, you can sign up for a paid subscription, starting at $99 per month.
Free Google SEO tools – Not to be overlooked!
Considering your largest organic market is likely to be Google, it makes sense to get a look at Google specific data and this is the only real way to get the actual data on how your listings perform in Google results pages. Google offers a whole host of free SEO tools to help ramp up your visibility in SERPs. They include Search Console, Analytics, Keyword Planner and Google Business Profile (formerly Google My Business).
Let's take a look at how you can use these tools to your advantage.
Google Search Console, an essential for your SEO toolbox
The Search Console is a totally free SEO tool that allows you to measure the organic performance of your site across Google results pages. It covers everything from clicks, impressions and positioning, to what key-phrases were used to find your website.
That's not all. The Search Console also allows you to have an overview of the health of your site. Examples include:
Where your pages are in the SERPs

Track trends in your search visibility

Detect and diagnose potential Google bot crawl errors

Analyse the backlink profile of your website and remove toxic links

Review your site's mobile usability and Core Web Vitals scores

Monitor potential Google penalties and security vulnerabilities
If you have an Analytics account, be sure to link it with your Google Search Console to obtain additional data insights relating to your organic traffic. It is also one of the most direct ways to know if your site has been penalised by Google or has major issues impacting visibility in SERPs.
Google Analytics, an SEO toolbox to better know your audience
Google Analytics is a must-have for enhancing your SEO strategy. It's free and allows you to analyse audience behaviour on your website. Insights into user behaviour can help you sculpt your strategy and identify positive performance and areas of improvement.
Key metrics include:
Visits

Page views

Traffic source

Devices

Geographical origin
Analytics also offers you functions to measure the user experience on your site, such as the average page load speed, the terms entered in the internal search or the user journey from arrival to departure.
Unlike Google Search Console which measures performance within Google's results pages, Google Analytics tells you what people do once they arrive on your site, as well as where they have come from.
Knowing your audience better means that you can adapt your SEO strategy by offering content that is targeted to users, and therefore improve the user experience on your site.
Google has an Enterprise version of Google Analytics priced around $150,000 per year for Enterprise businesses, so you know the free version of this tool which includes most elements is a must.
Remember that Google is changing the current version of Google Analytics to GA4 next year, so if you are using GA already you need to change over, otherwise from July 2023 you won't have any data. If you need help to transition, feel free to get in touch with us to help you with this. Email us at hello@bell-digitalmarketing.com to find out how we can help you.
Google Ads, an underrated free SEO keyword research tool
Google is the master of search so it's hardly surprising that their own data is extremely valuable. Keyword Planner is a tool primarily used for planning advertising campaigns; however, it also lends itself well to keyword research for organic SEO. Identify keyword difficulty, search volume, trends and CPC (cost-per-click) to name just a few metrics. What's more, because the data is straight out of Google, you can trust its accuracy.
To tip: Use a Google account associated with your campaigns to allow you to have more precise search volumes.
Google Business Profile – A must have to boost your local SEO
Formerly Google My Business (GMB), Google Business Profile (GBP) is a service for business owners to gain visibility in SERPs. It is intended to be an overall snapshot of your business and is also a place where customers can leave reviews. It was primarily created for 'bricks and mortar' businesses who have a physical location they can list in Google Maps.
Set up an account, create a listing and map location, then pack it with informative information such as posts, offers, opening hours and photographs.
Currently these listings will appear on the right-hand side of Google results on desktop, or just underneath sponsored ad listings on mobile devices. You must make sure that you keep your profile up to date with relevant information including helpful FAQs. Ensure the listing also targets some of the main keywords you are looking to rank for.
For Google Maps and the Local Business Map inserts in Google results, quality information and the number of Google reviews (and their average rating) will help your business get returned higher in Maps results.
Page Speed ​​Insights, a tool to correct your technical SEO
Finally, let's look at an SEO tool that is often overlooked - PageSpeed Insights. This tool allows you to test your page speed and see what real users are experiencing when they visit your site.
The quicker the load speed the better, and this essential SEO tool allows you to test on both mobile and desktop. It provides useful insights into performance issues along with helpful tips on how to improve your website's score. Page loading speed not only has a direct impact on bounce rate and user experience but it can also influence overall conversions. So fixing speed issues using the advice given can provide some quick wins.
Need advice on how to improve your organic search results?
If you need a helping hand to improve or maintain your positioning in search engine results pages, the team here at Bell Digital Marketing are here to help. Contact us or email us on hello@bell-digitalmarketing.com for expert assistance.
Follow us on LinkedIn, Twitter and Facebook for the latest updates, or get in touch for more information about how to improve your SEO, paid or content marketing activities.