You are probably familiar with Google Search – 86% of UK Internet users use it. But do you know about Google Search Console, the essential tool complementary to Google Analytics?
Today we are going to review the tool's main features and explain why it's essential for monitoring your website's performance. Let's go!
What is Google Search Console?
Google Search Console is a free tool offered by Google to help website owners monitor, maintain and spot problems with their site's presence in Google SERPs (Search Engine Results Pages).
For optimal monitoring, we recommend consulting the tool regularly (or failing that, subscribing to follow-up emails) so you can react quickly in the event of a problem.
How to configure Google Search Console
Sites do not automatically connect to Google Search Console. You need to have a Google or Google Workspace account to link your site. The two types of registration are:
Domain property – This allows you to track your entire domain and subdomain variations
URL-prefix property – This works by specifying the start of a URL. Any URLs that begin with that prefix are then included in the property.
Once your domain has been added to Google Search Console, you need to prove that it belongs to you. There are several options available. You can:
Go through your site's HTML file (this requires access to your website's source code)
Change the DNS settings on your domain host account
Use Google Tag Manager or Google Analytics
Add a verification HTML tag to the <head> section of your homepage
How to link Google Analytics and Google Search Console
To further the analysis of your SEO data, it is also possible to connect Google Search Console to Google Analytics. It's quite simple to do. Simply open your Google Analytics account, go to "Admin" and in the "property" table, click on "property settings". Once there, go to "Search Console", click on "Adjust Search Console", then add and save the relevant property.
As a reminder, the main difference between Google Analytics and Google Search Console is the KPIs (Key Performance Indicators) they track: Google Analytics tracks your site's traffic and the behaviour of visitors, while Google Search Console tracks the positioning of your site and any errors.

Top 5 Google Search Console features

Track page and query performance
The main feature of Google Search Console is tracking your main pages and keywords, to detect which perform best in SERPs. This happens directly in the "Search Results" section, where you have four KPIs:
Clicks, which totals how many users click through to your website
Impressions, which aggregates the number of times users see your URL in Google Search
CTR (Click-Through Rate), which is calculated by dividing clicks by impressions
Average position, which, as the name suggests, is the average position of your website in SERPs.
That's not all: in addition to this "summary" you can also refine your search based on:
Queries, which compiles the queries most searched by Internet users
Pages, which groups the pages that appear most often in SERPs
Country, which details where organic users come from
Devices, which shows the technologies people use to arrive at your website
Appearance in search results, which lets you know if the result presented to the user was enriched or not
Date, which summarises the site's organic performance by date

Submit a URL for indexing
Google Search Console allows you to check if a page is indexed by Google, and, if not, crawl the URL for indexing.
To access this feature, simply copy/paste the relevant link into the search bar at the top of the page and press enter. Once the URL has been parsed, you can:
Test the URL live, to see how Google rates your page
Make sure your page is mobile-friendly and free from structured data errors
Request indexing
Indexing requests are limited to ten per day. If you create and submit an XML sitemap (use the sitemap section) you can list as many pages as you like.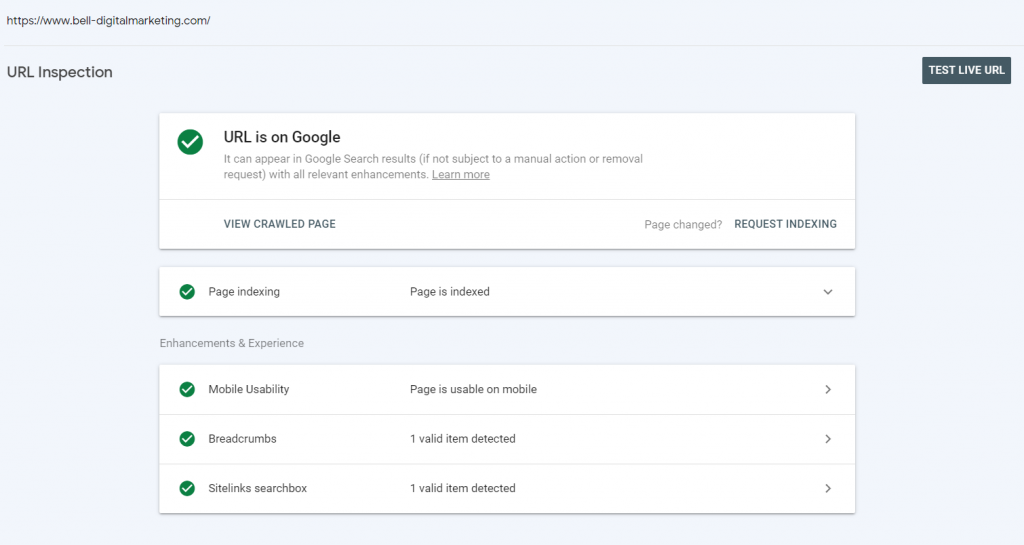 Check the correct indexing/crawling of the pages
There is another way to check whether your pages are correctly indexed: the Search Console coverage report. This will help you better understand coverage issues and whether a page is in the index. There are 4 pieces of information here:
Valid: the pages concerned are properly indexed by Google
Valid with warnings: the pages concerned are indexed but they encounter problems (for example, a page is indexed but is blocked by a robots.txt file)
Error: the affected page is not indexed because it has errors
Excluded: the pages are not indexed because of a specific instruction, like your sitemap.xml file
Common errors in the coverage report include:
URL not found (404)
Server error (5xx)
Detected but not indexed: the URL in question is known to Google but has not been crawled yet
Crawled but not indexed: the page has been crawled by Google robots but has not been indexed (it may be in the future)
The URL is blocked by your robots.txt file
URL designated "noindex": the URL in question has a "noindex" direction, which blocks the indexing of the page
A site with a large number of errors and excluded pages may have indexability or quality problems. It will therefore be necessary to investigate further to see what is affecting your crawl budget.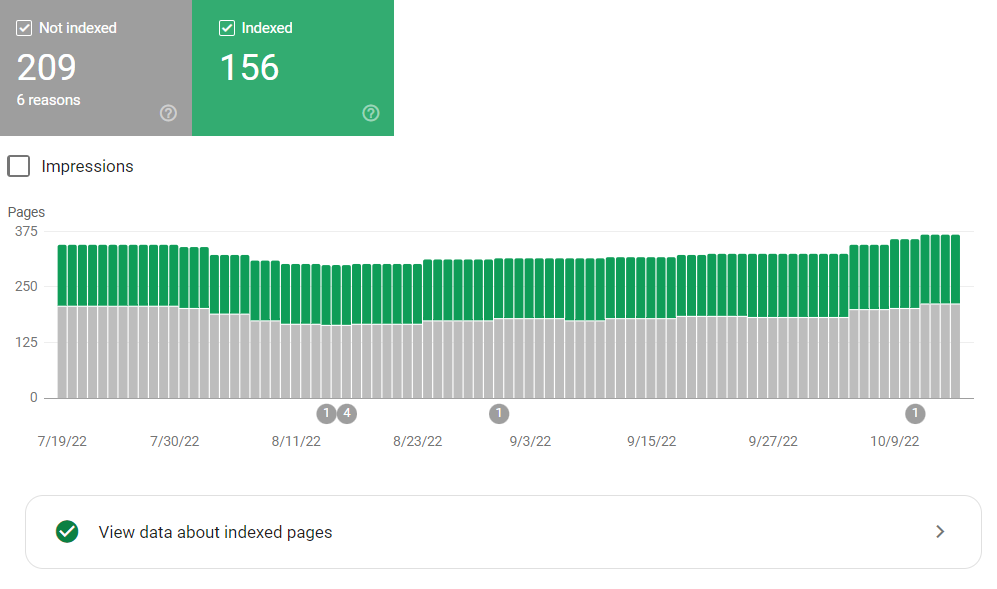 Check if your site is optimised for mobile browsing
With Google's mobile-first update, it is essential that your site is optimised for mobile devices. Fortunately, Google Search Console can help you identify any errors that users may encounter.
To check this, head to the "Mobile Usability" section. There you will find any errors listed by Google. Common errors include "clickable elements are too close together" or "text too small".
Note that since Google's Core Web Vitals update, you can also find out if your URLs are fast enough for mobile and desktop users. To do this, simply head to the "Core Web Vitals" tab.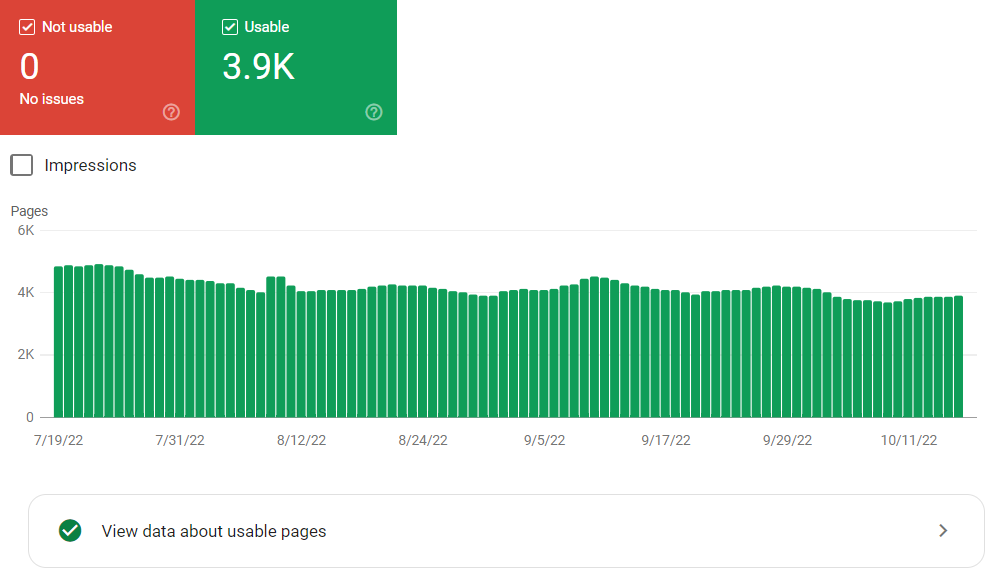 Find out if you have received a penalty
Does your website no longer appear in Google Search? Have you noticed a sudden and dramatic drop in traffic? Then it's possible that Google has imposed a penalty, or "manual action", against your site.
To check, go to the "Manual actions" tab in Google Search Console. If a green tick appears, everything is fine (and the problem is elsewhere). If you see an error, go through the information provided and correct it as soon as possible.
Most penalties are now algorithmic and don't show in Google Search Console. Read our blog about Google's Helpful Content Update to learn more.

Conclusion
Google Search Console is a powerful tool. It is essential for any site owner to understand how their site is performing in search results and is one of the rare places to actually see the search queries your site pages are found by. It allows you to properly monitor your SEO strategy as well as identify errors that could cost you traffic and ranking opportunities.
Follow us on LinkedIn, Twitter and Facebook for the latest updates, or get in touch for more information about how to improve your SEO, paid or content marketing activities.